Braking is all about friction. The only way to stop, or slow down a car is to press two objects together as hard as possible and let the friction do its thing. 
While brake calipers, pads, and rotors are all important factors in this process, the thing that actually does the pressing is your brake fluid. Brake fluid is one of the most critical, but often the most sensitive parts of your car's braking system. Motul has developed a line of brake fluids that remove most of that sensitivity through quality materials and advanced engineering. Here's why Motul brake fluid formulas stand out.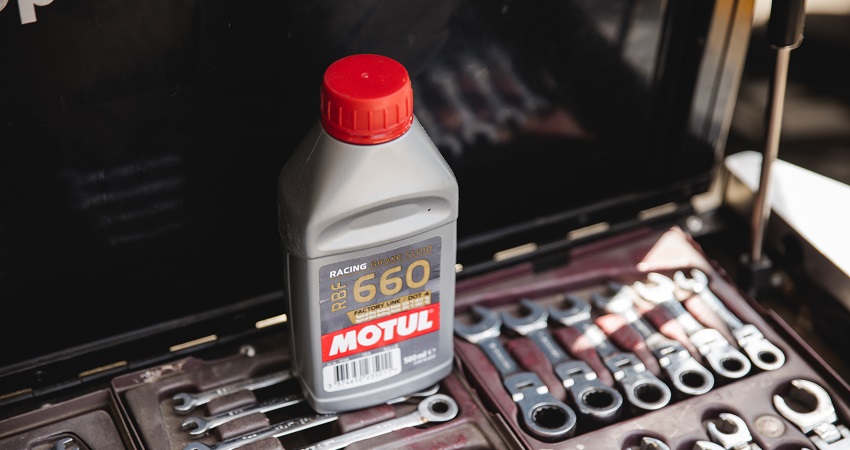 MODERN POLYGLYCOL SOLUTIONS 
All brake fluids can be divided into two categories — polyglycol and silicone-based fluids. The latter is often praised for its ability to stay dry and not attract moisture. However, silicone-based braking fluids are highly compressible. They are about twice as compressible as polyglycol brake fluids. 
The rate of compression effects pedal feel. More compressible fluids generally produce a mushy pedal feel. The compressive nature of silicone-based DOT 5 fluids is one of the main reasons why these were never widely adopted.
Motul's entire range of brake fluids is based on modern polyglycol technologies. Unlike silicone-based formulas, polyglycol brake fluid offers a firm pedal feel at all times. Being able to get on the brakes and gauge the amount of pressure you're applying is important in everyday driving, but even more so in motorsports. 
Motul has developed three types of brake fluids that cover the entire spectrum of applications — Motul DOT 5.1, Motul RBF 600 and RBF 660. Here's what these products bring to the table. 
Motul DOT 5.1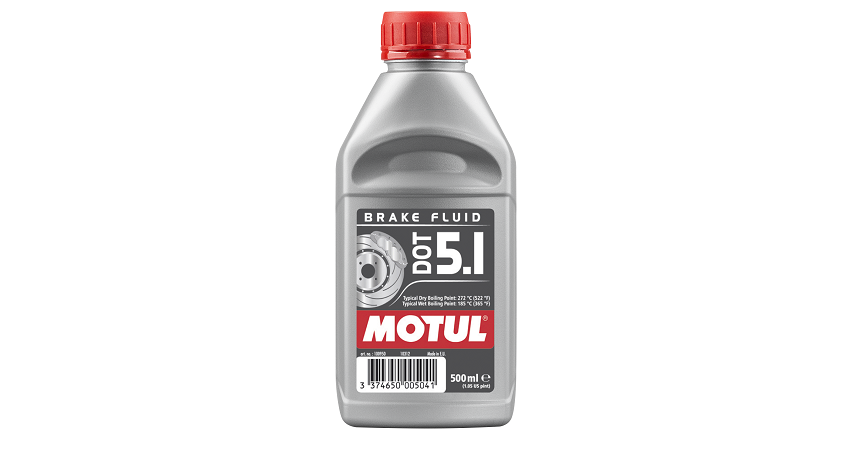 Although silicone-based DOT 5 brake fluids never caught on, the industry took note of their advanced properties. Motul, much like other names in the business, began work on replicating the silicone-based properties of DOT 5 fluid in a polyglycol based equivalent. The result is the DOT 5.1 brake fluid that works great in just about all DOT 4 and DOT 3 rated systems. 
Motul DOT 5.1 takes things a step further by delivering a higher dry (518 °F) and wet (365 °F) boiling point compared to the industry average. Our DOT 5.1 fluid is the perfect choice for regular street use where longevity and consistency are key factors.
Motul RBF 600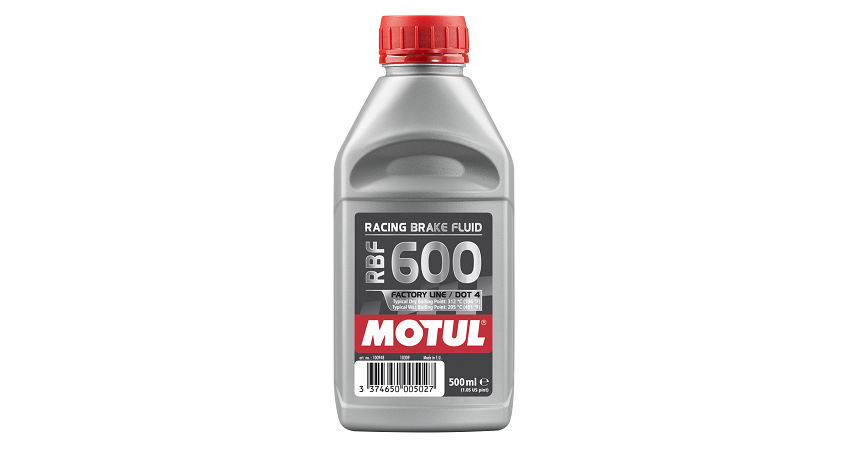 Motul Racing Brake Fluid 600 is a DOT 4 formula that is all about high dry and wet boiling points. The RBF 600 is designed to far exceed the DOT 4 standard in this regard, offering a dry boiling point of 594 °F, while the wet boiling point sits at 401 °F. Every bottle of RBF 600 is filled with Nitrogen, which greatly reduces the chances of contamination. 
Motul RBF 600 is a great choice for both dynamic street use and track use. It's worth noting that the wet boiling point was measured at 3.5% of water contamination, which is 1.5% more than what is considered safe for an average brake fluid. 
Motul RBF 660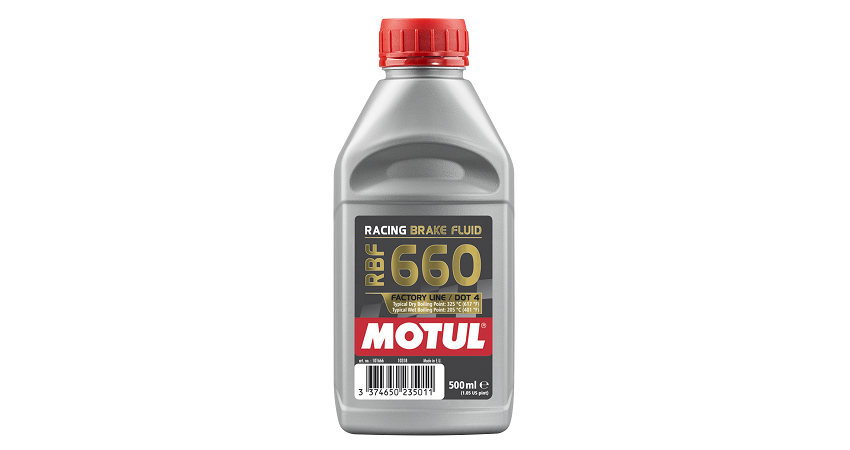 Modern racing carbon and ceramic brake systems have pushed the boundaries when it comes to braking power. This bump in performance also meant a bump in heat generation. Motul RBF 660 was specially designed to counter these issues and limit brake fade in systems where extremely high temperatures are common. 
The RBF 660 offers an even higher dry/wet boiling point than the RBF 600. When dry, this brake fluid can sustain 622 °F, while it will handle 399 °F when wet. With RBF 660 in your car's braking system, you'll have much more headroom before experiencing brake fade. That headroom can easily mean the difference between winning and losing a race. 
HYGROSCOPY — HOW OFTEN SHOULD YOU CHANGE MOTUL BRAKE FLUIDS? 
One of the main issues with polyglycol based brake fluids is their hygroscopic nature. In other words, polyglycol based brake fluids attract moisture from their surroundings, including ambient air. Water contamination is inevitable, which is why you need to flush your braking fluid every year or sooner depending on how you use your car. 
Brake fluid that contains more than 3.5% water is no longer considered safe. That much water will bring down both your dry and wet boiling points, potentially resulting in vapor lock. 
Hygroscopy is often singled out as the main reason why silicone-based fluids are better than polyglycol based ones. However, the issue of water contamination is a simple one to solve. All you need to do is maintain your brakes regularly and recognize that track days will expedite water contamination. 
IS MOTUL RBF FLUID SUITABLE FOR STREET USE?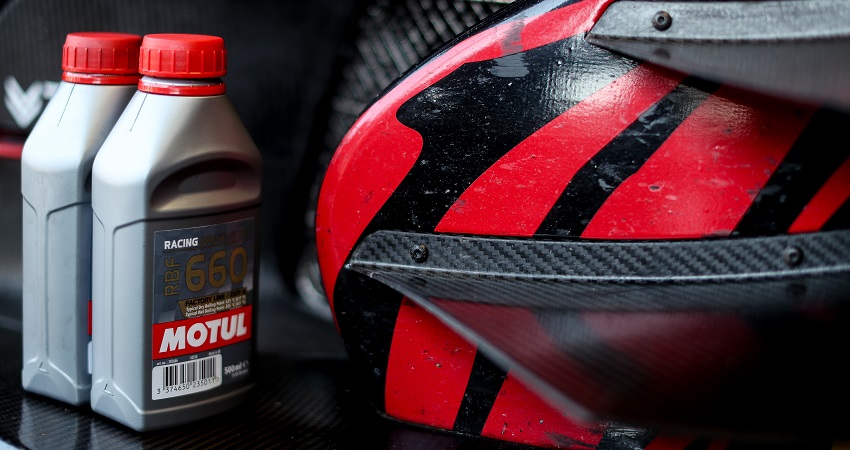 Absolutely! While you may not enjoy all of the benefits of RBF brake fluids during your daily commute, you can most definitely use Motul RBF 600 and RBF 660 in your daily driver. You'll appreciate the high boiling point of these fluids should you decide to take your car to a track day. 
CAN YOU USE MOTUL RBF 600 AND RBF 660 IN MOTORCYCLES? 
Motul RBF 600 and RBF660 are both suitable for use in motorcycles. In fact, they're the perfect upgrade for your bike, if you're looking to improve your track times. Just like in cars, the high boiling point of the RBF series will greatly benefit your ability to brake efficiently both on and off the track. 
MOTUL BRAKE FLUID FOR ANY APPLICATION 
By offering 3 amazing formulas, we've made brake fluid selection easy. All you have to do is pick a product that best suits your needs and your driving style. Our brake fluids will do the rest. Treat your braking system with Motul RBF and find out why our brake fluids are the choice of those who refuse to compromise. 
Article by Jason Cooper reposted from Motul Blog.